Sai Baba Saved My Daughter From Burn Injuries
Anonymous devotee from Dubai says: Dear hetal ji, thanks for doing this noble work on behalf of all devotes which gives us more energy and strength whenever we are in stress. Please don't publish my name and email. This is my second experience. I come to know about Sai Baba during my college days but become devotee after marriage. Baba blessed me with beautiful daughter and she is now 5 month old. Thanks Baba for Your blessing on us.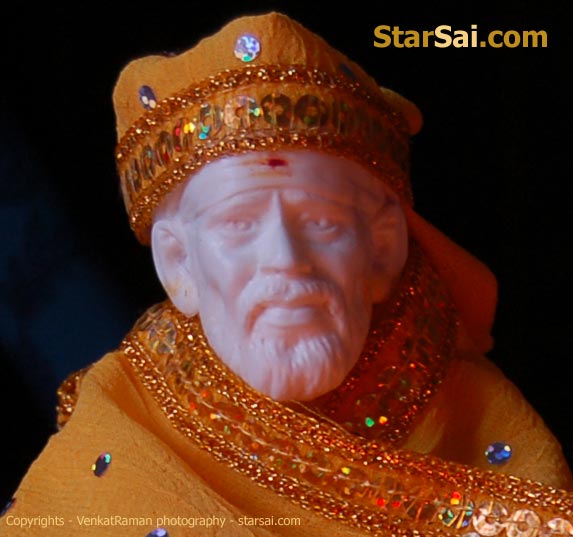 I am staying in Dubai and working as well. So my Mother and father in law came to help us to take care of baby. On Friday(last week of Dec) I took my baby for bath. Usually when i am at home I use to give bath to my baby alone. On that day I prepared hot water in two buckets for bath, one is mixed with cold and another is half mixed-just kept if needed will mix water when first one gets over. My in law she took my daughter to wash room after applying oil on her body. I don't know what happened suddenly I thought of mixing Udi in the hot water before giving bath because it's very cold and thought of my daughter should not catch cold as I need to give bath for head as well. After this I was giving bath, almost finished and my Mother-in-law was standing with towel and enjoying how my baby playing while bath. I don't know what happened to her she came in and wanted to pour water as my baby was playing with water. She pour one cup from the first one (mixed water). Second one(half mixed water) which was also next to it, she took one from that and poured on her back as I was holding my baby I felt water is hot and took my baby immediately, but somehow little water fell on her back and she started crying a lot.
Oh my god I can still feel my baby pain and the cry which is like very bad. I felt very bad but immediately I applied Udi in the part and prayed to Baba nothing should happen to her. It was like 10 min she was crying and i was trying to console her but failed. I gave milk to her but she avoided. Somehow after some time i applied cream and then she slept. I was feeling very guilty why I kept water very nearby and I should have informed my mother-in-law. I cannot even blame her because it's not either her fault-but for me the surprise she never come to washroom when i am giving bath, it was only me giving bath to her alone. Once finished I will give it to my mother-in-law for dressing. Another surprise that how the idea came into my mind of mixing Udi in the water, which I never do. It was my Baba who gave me hint some big issue was about to happen, but by His indication and His presence it went very small. I should thank my Baba for just giving me some hint and asked to mix Udi in the water. Thank You Baba. Nothing happened just little redness on my baby back no boil nothing once she awake from her sleep she started playing with me and she was active. My Koti Koti Pranam to my Baba. I love You Baba and thank You once again for saving my angel. In future I will be very careful and this will not happen again. Please bless everyone.
Sai's Anugraha
Anonymous devotee says: Dear Hetal, Whatever I say will not enough to praise your pious work so just bless you and your team to do more and more divine work and help the needy souls. I am also Sai's Beti since long time. He is my "Sarvasva". I have lot & lots of experiences. More than forty years every day He is holding my hands doing every help to survive. Today I am writing one miracle because I promised to write it.
Me & my husband visited our relative. They have little boy in their house who is very naughty & keep running all over the house. I was doing some knitting work for that boy's mom. And while completing that work I used tiny sewing needle. But in a hurry somehow I lost it. They have carpet on their floor so it was not easy to find it. I was very concern for that little boy running around & was wanted to search & find it as early as possible but no luck. I kept searching with help of magnet thinking that it will catch it still no success. Now mom of that boy also becoming tensed and my situation became worse. Only hope is my Sai Baba. He is the Saviour. I was praying Him to save from being blamed for my mistake.
My disturbed behaviour made my husband help me to search, even than no result. So from morning to evening all efforts were of no use. But my faith was not shaken. I keep chanting Baba's Name asking His help. Now it was time of returning that boy and his mom who were out from house for five hours. I heard the car sound and at the same time my husband switches on the light. Just then he said "see I got you something" and it was that tiny little needle. For which I was worried for whole day. All you devotees may think what is the big deal? But when your negligence create problem to other people and you feel guilty of being blamed & ashamed of, it really makes you feel sad. It may be very small thing but I never wanted to give anybody a reason to hurt. So in a nick of right time my Sai Baba saved me. Yes when I was chanting His name I promised that if I saved I will write it to know everyone, Our Baba listens to every big and small problem of you. Keep faith. Jai Sai Nath. Be with us all the time my Deva. Love You Baba.
Sai Nav Guruvar Vrat Mahima
Sai Sister Lakshmi from US says: I am Lakshmi, currently residing in USA and this is my third post here. First of all, thanks to hetal ji for this wonderful blog. This is my third experience posting here. I came to know about this blog through my cousin by Baba's grace later i started reading this page almost every day, and then i came to know about Nav Guruvar Vrat and its power. So, i wanted to start for the sake of my parents and family, Sai Maa blessed me to start in the month of November 2013.
Miracle 1: Sai Maa gave me Darshan in my dream, He was wearing white Kafni, gave dove bird to me and said happy marriage anniversary. Morning i woke up and realized about the dream and felt very happy as it was the first time i got Sai Maa Darshan in my life. Actually my marriage anniversary is on Nov 5th, it was over by that time so i don't know why He blessed me like that and got scared about my husband's life because He gave white bird. Then immediately i opened question and answers website and asked why He said like that. He said "Death will be avoided, remember Sai Baba." I was dumbstruck on seeing that and praying to Sai Maa to save my husband. I am sure He will take care of my husband's life.
Miracle 2: My parents have some fields and ponds in our village, the crops came to final stage. So, if rain comes at that stage total crops get spoiled. Unexpectedly, storms started one by one helen, leher like that. The first storm was light, second was more severe, it might spoil entire crops, my parents lost hope by seeing the news. Meanwhile, i prayed Sai Maa that, whatever You did when You were alive in Shirdi when storm comes, do that again and my mom should say that stars came in the sky and there was no storm for us. See the miracle, Sai Maa did exactly same. I woke up in the morning (USA) and called my mom she said "stars came in the sky, no storm for us". That is Sai Maa.
Miracle 3: I have some serious health problems, so i was worrying about my family especially for my cute daughter; she is just 3 yr old. I opened question and answers website and asked Sai Maa about the cure. He said, feed the black dog, you will be recovered. As i was staying in USA, we don't have dogs here at home so i asked my mom to do that on behalf of me. I informed Sai Maa about that and slept. Again Sai Maa came in to my dream, it was like this "i was there at my mom's house with my parents and sister, suddenly i have seen one old man just like Sai Maa was going in the street, i said to my mom about that and i wanted to give something for him, she said he will come back and we will give something for sure. I was just watching the street, he came back stood in front of my house and thinking about something like Sai Maa. Immediately i went inside the house picked up some rice, turmeric, Kumkum, coins etc in a bag and ran to him and offered. He took and said 'I like you maa'.".I woke up and understood that He accepted the food from my mother, later i asked my mom and she said that she offered.
Miracle 4: Finally i completed my Sai Nav Guruvar Vrat by Sai Maa's grace in the month of march and Baba gave me Darshan 2 more times after that. Recently on April 13th, that's on my birthday i woke up with His dream and what more i need for this life? Waiting for His call to Shirdi, planning to visit India soon, hope Sai Maa will give me Darshan in Shirdi too. Finally to all my Sai devotees, keep faith in Him and do 9 Guruvar Vrat if you can or read Sai Satcharitra one chapter a day, Sai Maa will give you Darshan for sure. Om Sai Shri Sai Jai Jai Sai. Thanks a lot for this blog, this page really helped me to go closer to Baba and have Darshan. Sorry if my post is too long and edit wherever is necessary.

© Devotees Experiences with Shirdi Sai Baba