---
---
Wishing you all Sai Blessed Gurupoornima from our blog team
---
---
Sai Baba Is Always With Me
Anonymous Devotee from India says: I am a Sai devotee since many years. I had lot of experiences in my life. I have shared one of my experience recently in this blog. I would like to share one more Leela of Baba which happened to me recently.
I live in a foreign country and Baba has being with me every moment guiding and supporting me one or the other way. Here is my experience. As my work permit is going to expire soon I was much tensed and did not know what to do. I wanted to consult an immigration lawyer and find the ways I have got to extend the work permit. A week before in a shopping mall a lawyer has given me her business card. In the morning as soon i woke up, i got an idea to visit her. I was searching for her business card but, I could not find it. I prayed Baba to help me find the card as i hope she will charge me less for the consultation. I was getting late for my work, i stopped my search and left to work. Once i reached the job i opened my bag to take Baba's Picture to keep it in my pocket, to my surprise i got the business card of the lawyer along with Baba's Picture. I was shocked and called up the lawyer and asked her for the appointment and consultation fee, she said they will charge $50. I was happy because usually a lawyer will charge 100 to 200$ for one visit. The lawyer gave me appointment for the next day i said ok, but later i was tensed and wanted to visit the lawyer same day.
I checked for other lawyers near my area and called one of them to take an appointment, this lawyer said their first consultation is free. I know Baba helped me here as i cannot afford that money. I immediately took the appointment for the same day evening and left the work early to see the lawyer. As soon i entered the office there was no one in the reception except Baba's Picture. My heart melted and almost had tears in my eyes. I felt like, Baba has told me that He will take care of everything and not to be worried about the immigration and the lawyer also gave me good suggestions without any tension. I was very happy that Baba is always with me. Love You Baba. May Sai bless His devotees and help the needy people.
My Family
Anonymous Devotee from India says: I am a humble son to my mother. I was fatherless from birth and my mother used to work all day long and only my grandmother used to take care of me. As days passed in my college, i met my new mother where she takes care of me in college and i was happy in her company. Later i began to think what must be our relationship and i left it to Baba and it was on January 13th 2014 Baba gave me answer that she is another mother to me. That day i ran to my Mam and I told her my feelings towards her and to my surprise, she accepted me. Later i came to know that she lost her son 17 years ago and my age was exactly 17 when i told her. I really felt amazed as how that could happen and it was Baba Who stood by me on all issues. Today March 31st we (kannadigas) celebrate new year and i got wishes from unknown person and i asked who it was and the reply was "if your madam is mother to you then i am your father" and i felt so amazed. I went into a state of bliss. I really thank Baba for giving me a wonderful, loving family. Thank You Baba. I Love You Sooooo much Baba.
Sai Saved My Life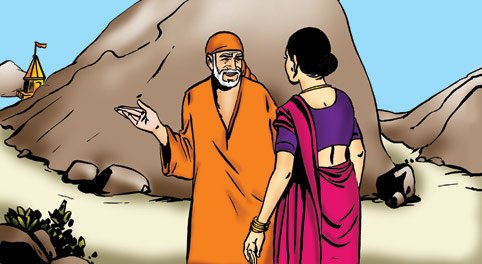 Sai Sister Sunitha from India says: Hi Sai brothers and sisters, this is Sunitha from India. I am Baba devotee from more than 10 years. Baba saved me and my family many times. Coming to my experience, I came to USA recently by Baba's grace I transferred completely to USA. Every day I used to pray Baba and light candle near Baba, do Aarti and sleep with lighted candle. One day I did the same thing and slept in another room. Suddenly at midnight 1 am smoke alarm buzzed and i woke up. I saw fire caught near Baba's Idol. I was staying alone. I got extremely scared and don't know what to do. I opened door so that smoke will go and I tried to stop fire with my hands. My palm burnt little and I got blisters all over my palms and it was paining so much and I was crying. After sometime fire stopped and alarm too. I called my fiancé and told him all this, then he told me to calm down and asked me to go to emergency as my palms got burnt. I called my friend who stays nearby and she came and took me to emergency and they gave treatment and asked me to take rest for few days. I was crying as my hands were paining so much. Baba came to my rescue as my friend. I am very thankful to her. May Baba give her good life.
After that I came home, I was scolding Baba why You did this, I lighted Diya and You did this to me. After that I was thinking if Baba won't wake me through alarm how much damage would have happened. Thanks to Baba. Koti Koti Pranam Baba. After that I went there to see Idols, nothing was happened to single idol and I got shocked as almost all the place near the idols caught fire and there is not even a single mark on those idols. Sai is present everywhere. He always saves His devotees. Ananta Koti Brahmand Nayak Raajadhiraj Yogiraj Parabrahma Sadguru Sainath Maharaj Ki Jai

© Devotees Experiences with Shirdi Sai Baba