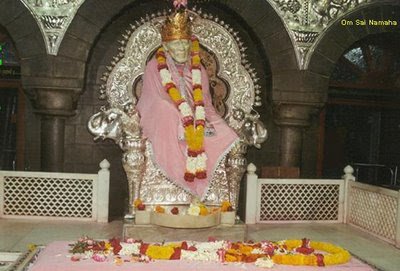 Dear Sai Readers, i am glad that the below anonymous devotee has shared her experience alongwith a message for all readers. This blog has been a platform where anyone can share their experience with Lord Sai Baba but using this platform for a cause is a moment of pride for all of us.
In one of my comment i had given a hint that we are coming up with something new on demand of readers. So here is the news! We are releasing a forum for this blog for readers to interact with each other. I request to kindly bookmark this link for Devotees Experiences with Shirdi Sai Baba Forum. Also we request all our readers to share their valuable suggestions and opinions as to how we can improve regarding this forum.
---
Anonymous Devotee from India says: Jai Sai Ram Ji, Dearest Hetal Ji, my heartiest congratulation to you and your team for 500th post. Please don't disclose my name and email id. This is my third Sai experience sharing with you all. As we all know this blog is daily tonic for all of us to survive the daily hurdles of life and today I am going to use this platform for a social message along with beautiful experience happened with my elder daughter with the grace of Sai Babaji.
I am a devotee of Sai Babaji and regularly visit Sai Babaji Mandir near my house to attend the Shej Aarti. Slowly slowly, my two little sweet daughters too attracted towards Sai Babaji. They too started visiting Sai Mandir with me. They attracted so much towards Babaji that even if sometime I tried to skip the Mandir visit, they push me to go with them for Aarti. Internally, I felt so much happy for them that Babaji had attracted my sweet daughters toward Him like a magnet attracts an iron piece.

One day, my elder daughter was little bit upset with her class teacher that she was not selected for dance program in her class. Otherwise she is very brilliant student of her class. Now she felt complex about it that she is not in good books of her class teacher. This even hurt me also and remind me of my School days, when I too suffer same kind of complex. On the same day, at Shej Aarti, I prayed to Babaji, please help my daughter to bring back her confidence and forget about it. Then she had Inter School Quiz Competition, I prepared her for competition at my level best without much expectation, as it is quite difficult to win from the toppers of all sections of her school.
When the result was declared, it was above my expectation. She is the TOPPER in all the class sections of her school. She won the GOLD MEDAL and certificate of FIRST POSITION from the Principal of the school. Now she had been selected for All India level Quiz competition. My whole family especially my husband felt proud of her achievements. I saw a new confidence on her face and now she become famous in her school as well as in all our relatives. The thing, which touches me most, is that she had given entire credit to her Sai Babaji and developed more faith in her Babaji. When my husband asked for her gift she said "She wants to go Shirdi in airplane". I prayed Sai Babaji to fulfill her all wishes and make her winner at all India level also.
Here I want raise one more question to whole society why for the craze of son. We abort girl child.
I had two daughters and felt proud for both of them. My younger daughter is also very intelligent and caring by nature. People around you sympathize and ask you to take one more chance for a son, but I never felt any differentiation between a girl and a boy. We should bring up both the gender with equality. We as parents get same treatment from our children what we give to our children. After death, when we face our Sai Babaji, neither the girl nor the boy will come with us. We have to go alone at his door. So I request to all say "NO TO GIRL ABORTION" and have small happy family.
JAI JAI JAI SAI RAM JI
© Devotees Experiences with Shirdi Sai Baba